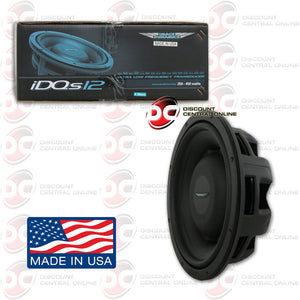 IMAGE DYNAMICS IDQS12 D4 12" DUAL 4 OHM SHALLOW MOUNT CAR SUBWOOFER
Car Audio 12-inch Dual voice coil 4-ohm Shallow mount Subwoofer
Model: IDQS12D4 IDQ Series
RMS Power Handling: 250 watts
PEAK Power Handling: 450 watts
VC Impedance: 2-Ohms + 2-Ohms
Test Impedance: 1-Ohm
Driver Displacement: 0.054
Fs: 50 Hz
SD: 390.57 sqCM
Vas: 15.641 Ltr
Cms: 72.203 M/N
Mms: 154.40 g
BL: 6.526
Qms: 6.764
Qes: 1.118
Qts: 0.961
No: 0.169%
Spl: 84 dB
Xmax: 7.5mm
Voice Coil: 2.0"
Voice Coil Height: 0.98"
Voice Coil Type: Kapton Former
Voice Coil Wire: Copper
DC Resistance: 1.03 Ohms
Voice Coil Induct at 1kHz: 0.43 MH
Frequency Response: 50-500Hz
Resonant Freq: 50 Fs Hz
HE-Magnetic Gap Height: 0.393"
Motor Structure: 42.95 oz
High Excursion Design allows acoustically linear bass output at all rated power levels.
Parabolic Santoprene Surround to ensure cone linearity and control.
Poly/Mica Cone for strong and distortion free bass reproduction while still reproducing all the musical nuances.
Nomex Spider for consistent control throughout the piston range and life of the woofer.
Poly Carbonate Neck Joint allows the woofer to handle more raw power without any mechanical failure or flex and isolate the heat from the BASV voice coil former from the cone.
American Made Flat Wound Extended Voice Coil gives our woofers higher magnetic flux (strength) and more voice coil "traction" in the magnetic gap with over 1.75" of linear travel in the magnetic gap.
Extended Y-35 Motor Structure allows the voice coil to move freely without any mechanical bottoming out while producing a very powerful flux field.
Mounting Depth: 3.5"
Cutout Diameter: 9.56"
---