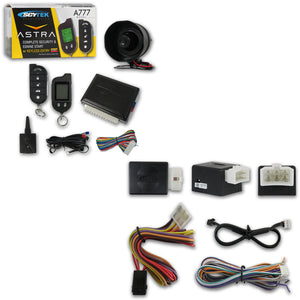 SCYTEK A777 CAR ALARM SYSTEM WITH KEYLESS ENTRY + REMOTE START MODULE
Car Alarm and Vehicle Security System with Keyless Entry
Model: A777
One 5 Button LCD 2-Way Remote Control
One 5 Button Sleek Chrome 1-Way Remote Control
Built-In Parking Light Relay, Programmable (+/-)
Plug-in Dual-Zone Impact Sensor
Six Tone Siren 12 Volt
Plug-in user programmable Coded Override Switch And LED on the Antenna
Lock, Unlock and Passenger Unlock Outputs (-)
User Selectable Auto-Lock and Unlock with Ignition
Interior Light Output (-)
Horn out (-)
Output for Starter Interupt Relay (-)
Two Programmable Auxiliary Channels, Pulsed, Timed and Latched (-)
Auto Disarm with Auxiliary 1 (Trunk) Activation Programmable
Programmable Three Stage Anti Car-Jack Feature
Factory Alarm Upgrade Inputs (+)
Data Bus Port
Alarm Trigger zone Identification
MobiLink, Cell Phone and Tracking Compatible
Two Car Operation
Designed and Assembled in USA


Remote Start module for select Scytek module.
Model: STARLINK
Most innovative cost effective vehicle security / remote start system to date.
Provides maximum flexibility with minimum installation time.
Comprised of all plug and play modules from a low cost single security module to a high end Remote Start/Alarm system utilizing Smart Phone 4G LTE cellular and GPS technology.
---